10 Top Fashion Trends from AW22 Fashion Week
author: Richard Wu
2022-08-05
10 Top Fashion Trends from AW22 Fashion Week
1.Color Blocking
Gone are the days of clashing colors being a fashion faux pas – this season, color blocking is back in a big way. Bold and bright, these clothes are loud and not for the faint of heart. Try your hand at mixing warm shades like orange and pink, or stick to cool tones such as green and blue for a refreshing twist. While a duo-chrome ensemble is the most popular choice, throwing a third or fourth hue into the mix adds complexity and an extra bit of oomph to the overall aesthetic. Rather than adding colors to the garments, try a bold hat, bag, or shoes for a pop.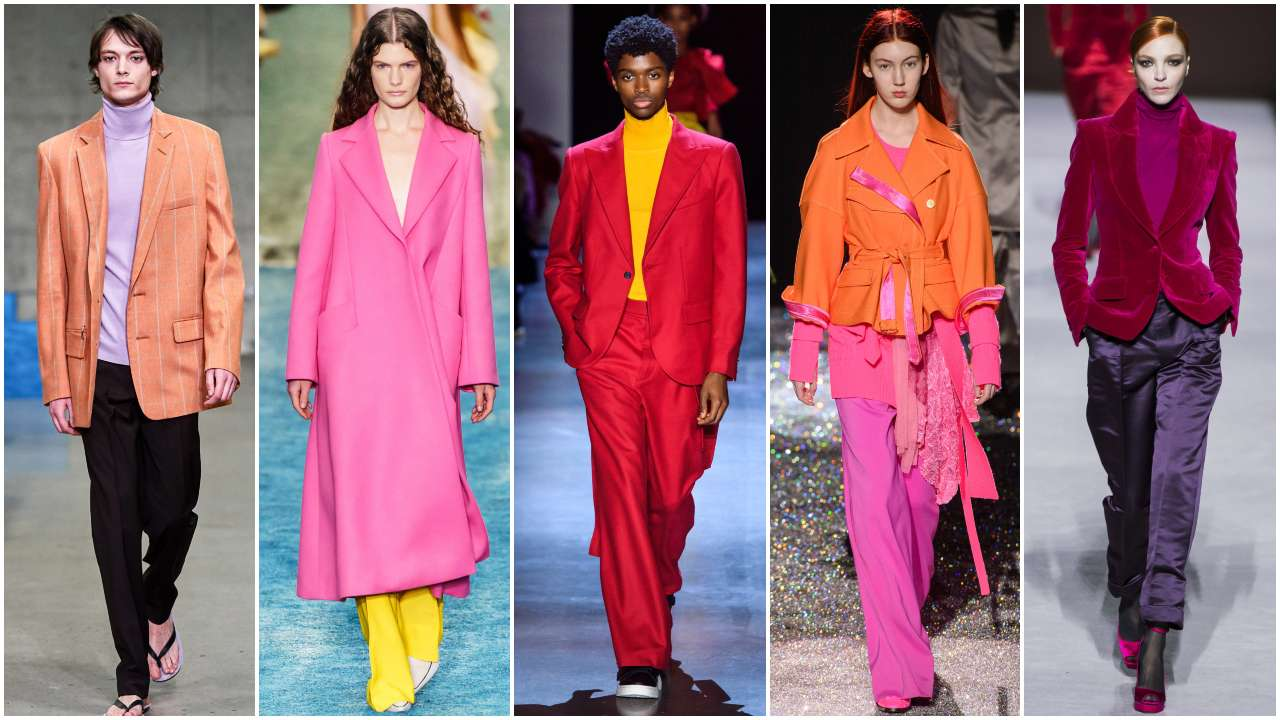 2.Black Cut-Out Tops
As one of the more daring trends of the season, these cut-out tops are an excellent addition to any wardrobe this year. No matter the season, be it summer or winter, this clothing can be worn with numerous pieces to create an interesting ensemble. Try it with a suit, which is the perfect get-up for the office or running around the city – the contrast between the structured tailoring with the strappy and abstract shirt provides perfect juxtaposition for a transitional season. It also makes for great layering – find something with long or asymmetrical sleeves to keep yourself snuggly when the temperature dips. From a night out to an event during the day, this is an off-duty model look popular with fashion lovers around the globe.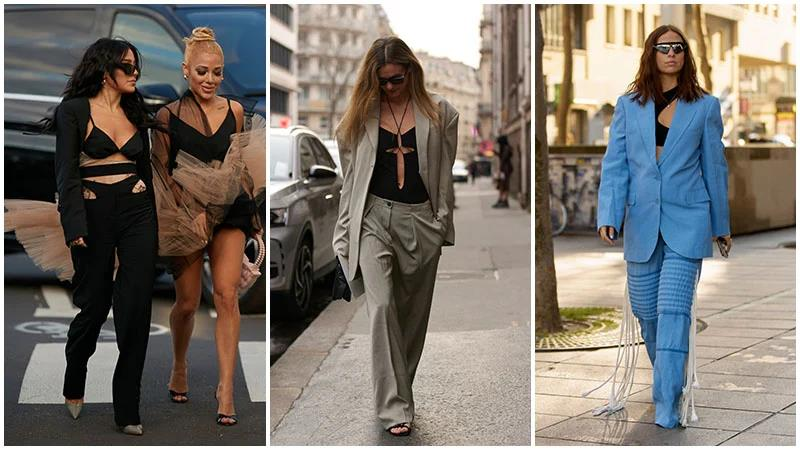 3.Corset Belts
The corset belt trend isn't anything new, but it often makes a comeback every few seasons. This waist-cinching accessory works well with a range of outfits, and this year we're seeing it combined with knits, crops, and separates. Some of the most popular styles come from designers such as Loewe, which accentuate the hourglass shape with a peplum jetting out from the waist. Burlesque styles are also favored in the fashion community, often sported with t-shirts, roll-necks, and dresses. With such an eye-catching item as part of your outfit, you can avoid adding extra embellishments such as necklaces and earrings.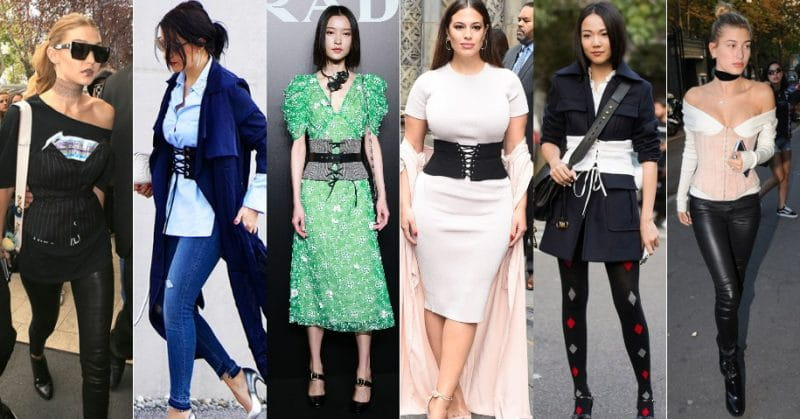 4.Fringing
With a lot of texture and movement, fringe details are an awesome addition to your everyday outfit. You can find jackets, shirts, and skirts with frayed fabric, but a popular choice this season is opting for a co-ord that moves with every step. You can blend this look with other trends on this list, such as color blocking or green all over – these all work well with this fashion must-have. Try a camel coat with a turtleneck and denim when the temperature drops, or opt for a sweater, fringed skirt, and boots for a perfect fall ensemble. You can rock this look during any season of the year, and it looks great on the photos, thanks to its fantastical motion.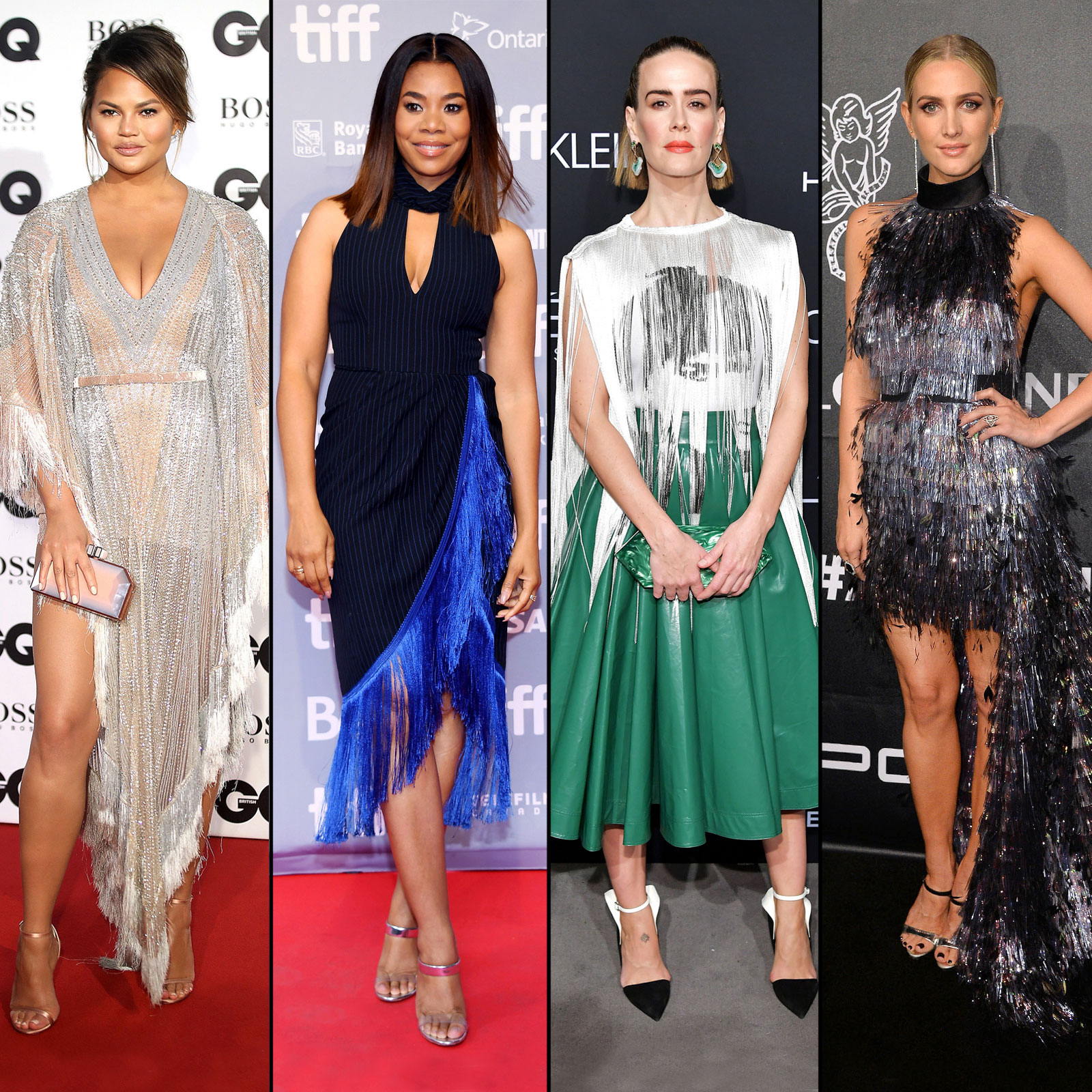 5.Green All Over
From Instagram to the streets of Fashion Week, green is the color of choice this season. Be it lime or emerald, the tone has taken over collections at Bottega Veneta, Ganni, and many others. Since it has become the ultimate shade of the year. Style it with various tones of the same palette, or you can go head to toe with a single hue. Try it as a dress, a blazer and roll-neck combo, or a pair of patchwork trousers with a casual T-shirt. Whether you choose to wear the Veneta Tire boots that kicked off the trend or something in a solid hue, you will certainly stand out for all the right reasons.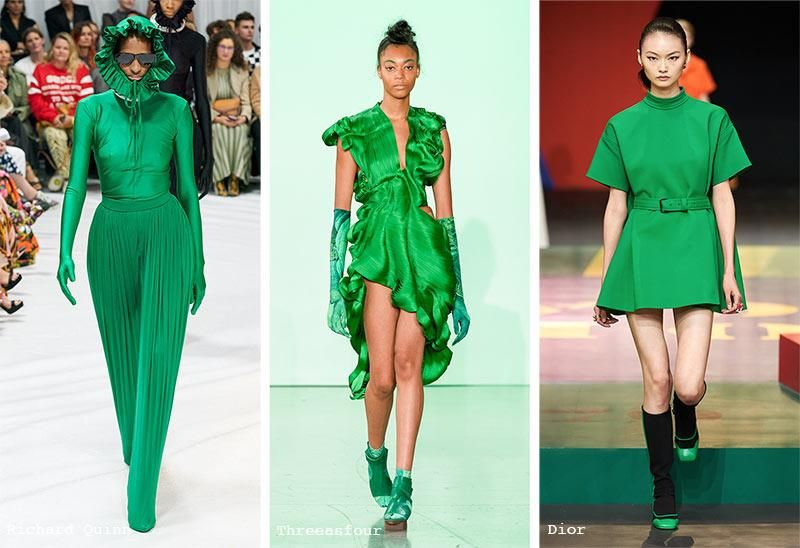 6.Head to Toe Denim
Sure, the double-denim trend has come and gone and certainly come off as a fashion faux pas at times, but this can be an incredible look when done correctly. This season, opt for an oversized jacket and jeans with patchwork or with a vintage flare – flares are a popular choice with fashion darlings. For a more '60s look, try a mini skirt with colored stockings or a long coat. You don't have to stick to a monochrome look, either – mix different fabric tones for a more intricate style. What was once referred to as the Canadian tuxedo has become a staple in everyone's wardrobe.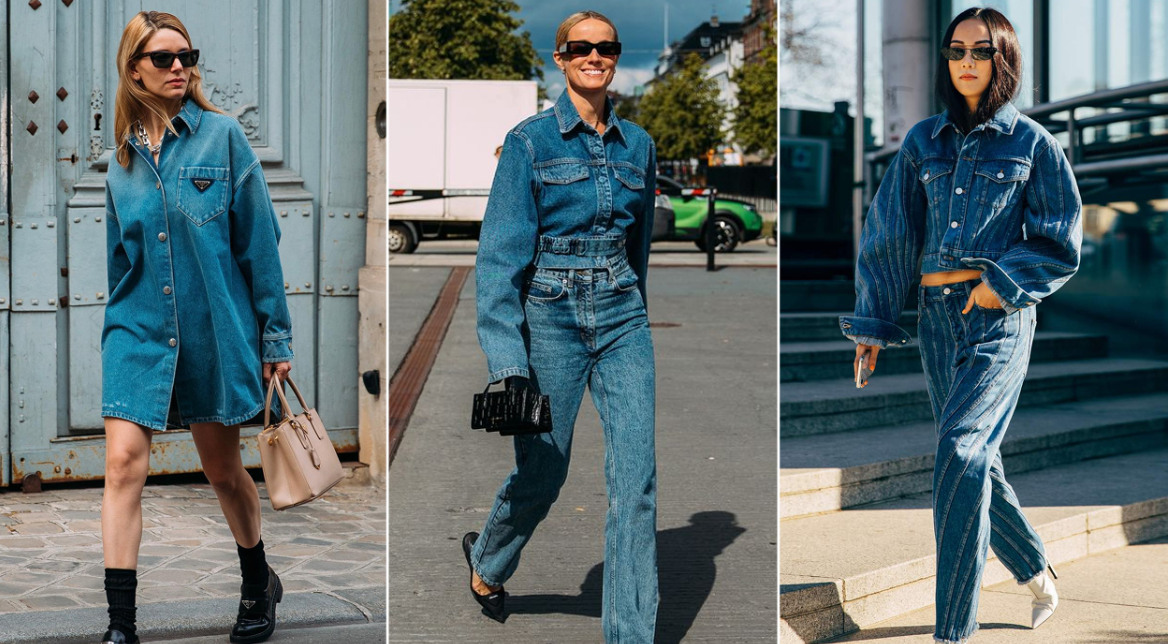 7.Low Rise Mini Skirts
While some may shudder at the thought of low-rise clothing, this trend is back in spades. While Miu Miu's iconic rendition has most recently made the rounds on Instagram, the micro-mini has been making a comeback for some time. The most popular way of styling this is with a cropped sweater and button-down shirt. Taking it back to the Y2K aesthetic, you can modernize the look by adding a tweed or wool blazer and a crop top in a matching hue. Play with your silhouette by adding in some thigh-high boots, or get leggy in a set of sneakers or classic pumps and stockings. Whether it's a look for you or not, it's certainly a bold piece of clothing.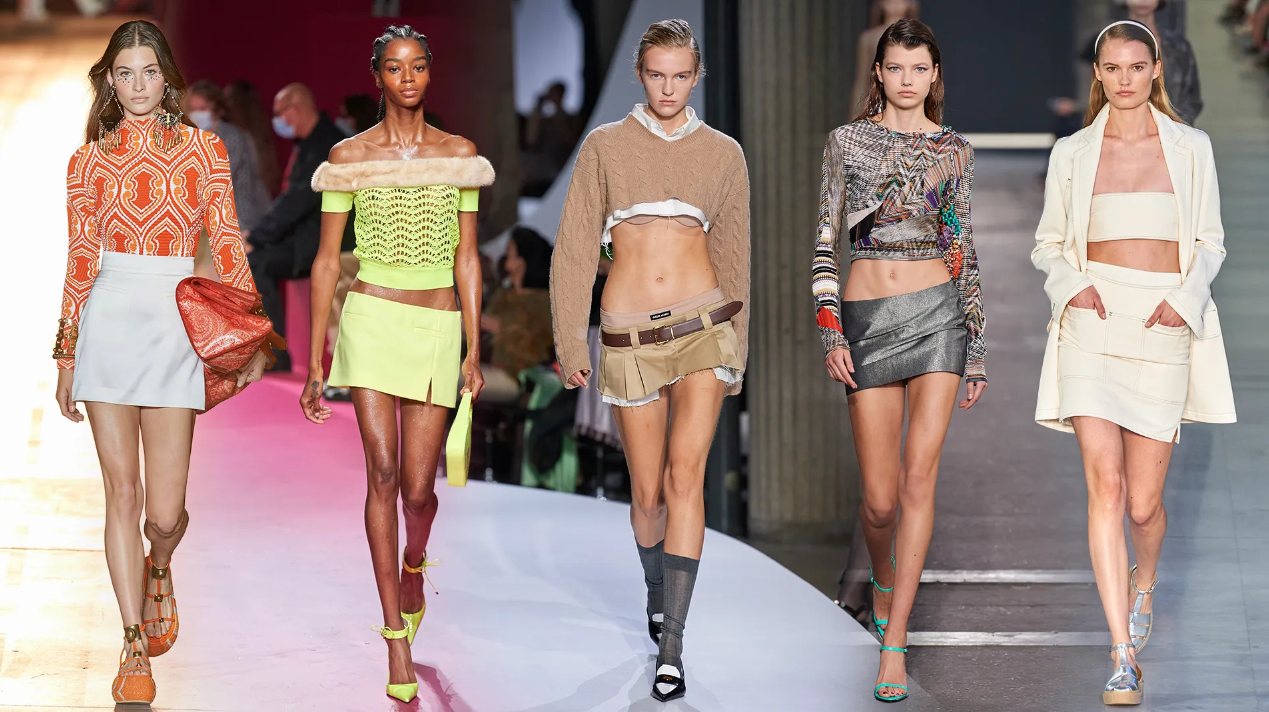 8.Ostrich Feather Outfits Bold, outlandish, and extravagant, an ostrich feather moment is the best way to make an impression. Depending on the occasion, you can dress them up or down from bodysuits to dresses. If you're someone who relies on the 'jeans and a nice top' mantra when going out, this should be your next purchase. Try it as a jacket with trousers and pointy toe heels for those who love to feel a little extra. You can also think outside the box when it comes to color combinations too. It's the perfect opportunity to try out some color blocking or experiment with different textures.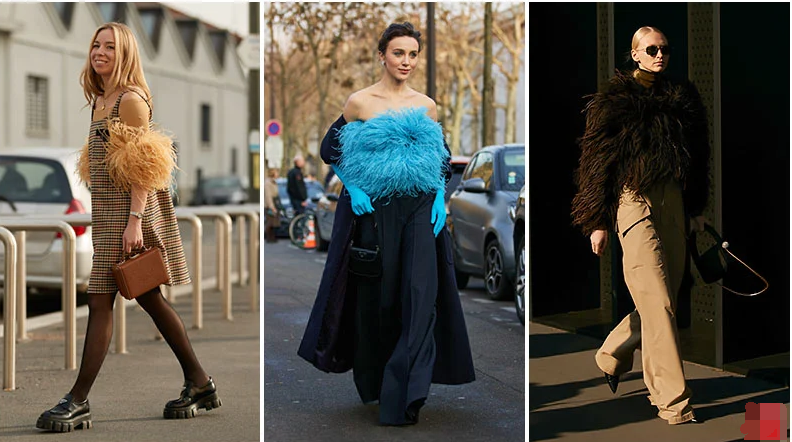 9.Pop Color Suits
Whether you drown yourself in color or want to spice up your regular work ensembles, go for a pop of color to brighten your day. These fashion-forward suits are bold and exciting, with bright shades to enhance your aesthetic. We've seen a lot of options on the runway and in street style, and the most popular choices include purple, azure blue, and lime green. You can work these with other shades, opting for a color-blocking theme or keeping it monochrome with a corresponding hue. You can even throw in black or white to give a bold look an extra boost. With such vibrancy coming from your garments, you can keep the accessories fairly minimal, opting for simple jewelry and shoes.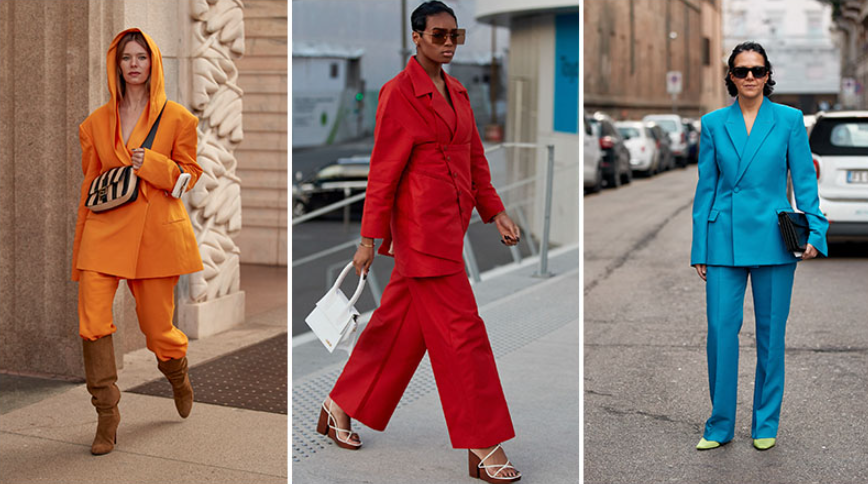 10.Sport Luxe
Staying at home for an extended period of time has allowed us to embrace the concept of dressing for comfort. But this doesn't mean that you can't look stylish at the same time! The sports luxe trend combines athletic attire, such as shell jackets and hoodies, with dressier garments such as mini skirts and heels. You can mix different shades like sporty orange or green and add contrasting hues like white, black, or gray to enhance the overall feel. Getting this look right is all about finding balance, so try your hand at a tracksuit with heels. We can't guarantee that you'll become a pro athlete, but you will definitely score straight tens with this outfit.