Summer Fashion Trends
author: Richard Wu
2022-06-23
These are the 12 fashion trends that will be everywhere now that summer has finally arrived
Summer is here, are you ready? These trends will be everywhere this summer, which one is your favorite?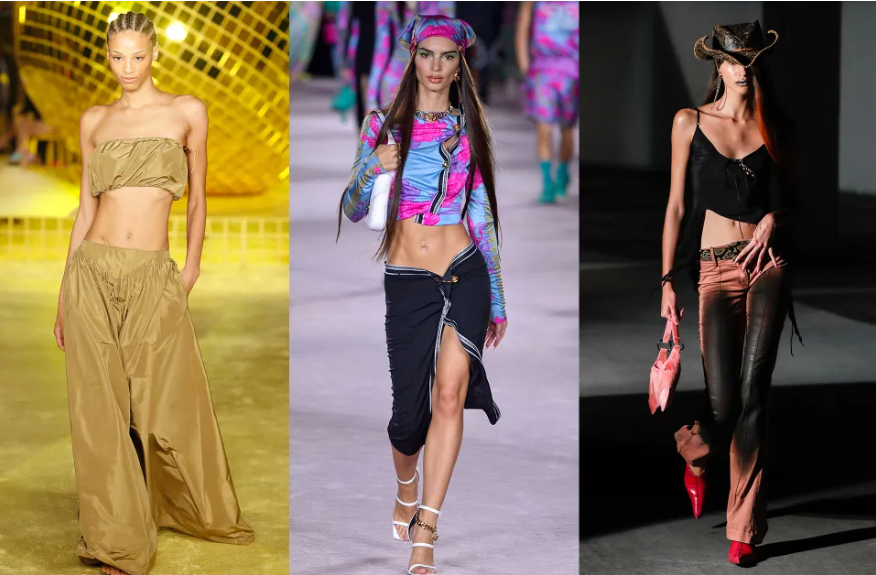 1.LOW-SLUNG WAISTS

High-rise jeans may have dominated our wardrobes for over a decade, but come summer 2022 things are getting a whole lot more '00s as the low-slung waist makes its way back to the forefront of our sartorial consciousness. They're all about bearing the midriff, so there's no value in opting for a low-rise and hiding it beneath a long knit. Go as low as you dare then add a cropped top for full Y2K drama.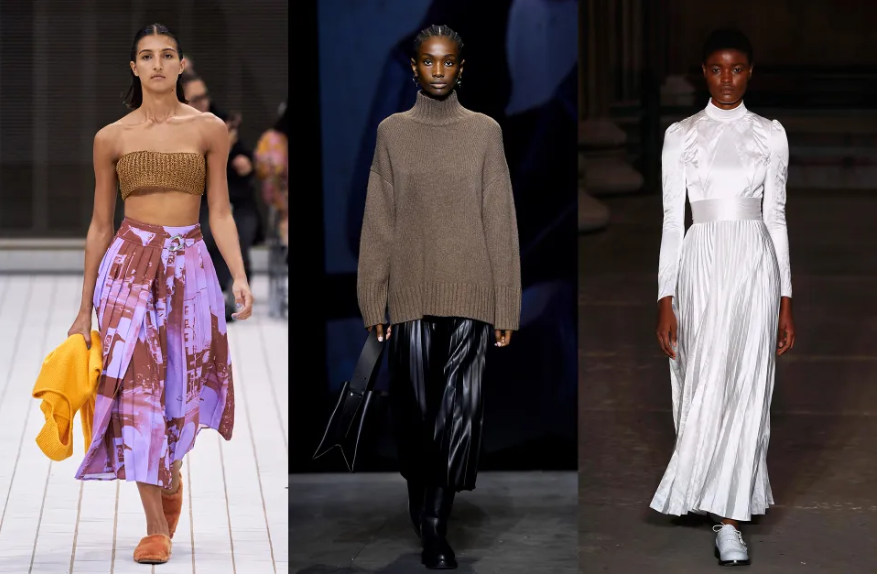 2.PLEATED SKIRTS

One of the most wearable trends to come out of this round of runways was the pleated skirt, and while there was a light scattering of mini incarnations, reminiscent of the influencer's current summer favourite, the tennis skirt, for SS22 it's all about the pleated midi. Other than that, there really are no rules. Printed, plain, colourful, monochrome, paired with knits or paired with a bralette – as long as it's pleated you're bang on the money. We're thrilled to see a trend without an expiration date.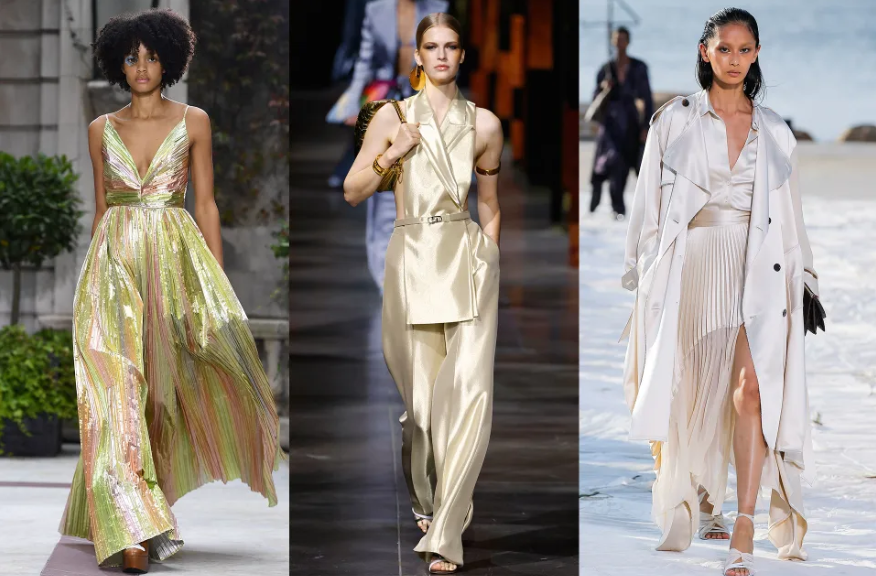 3.LIQUID METAL

This season sees a new way to do metallic spangle is, thankfully, sequin-free as the shiny paillettes often cause huge damage to the environment being plastic and all. Instead, may we encourage you to get your shine fix via liquid metal sheens; a far subtler, more grown-up and contemporary take on shimmer. Predominantly – but not exclusively – found in golds and silvers, these sheeny dreams create a molten metal feel as luxurious, shimmering fabric appears to be falling around your body. Obviously ideal for after-dark outfits, mix your metallics with neutral tones to make the most of them for day-wear, too.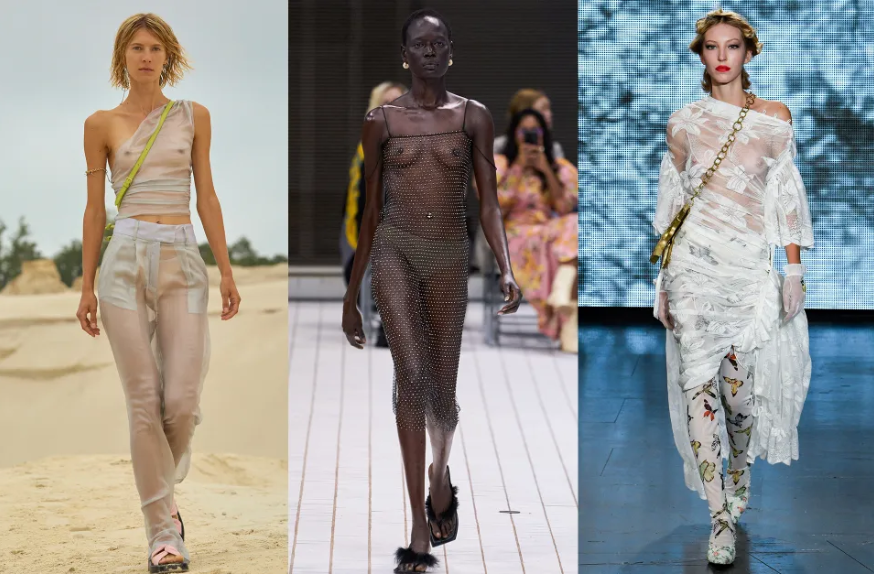 4.SUPER SHEER

Perhaps a trend best-suited to those looking to have fun with fashion again after spending the best part of two years wearing tracksuits, super sheer fabrics will have a real moment in the sun this spring. Of course, if you haven't got a date with the red carpet incoming, sheer fabrics can be cleverly layered over or under bra tops, blouses, cycling shorts or skorts to protect your modesty, rendering this trend one of the most flexible for SS22.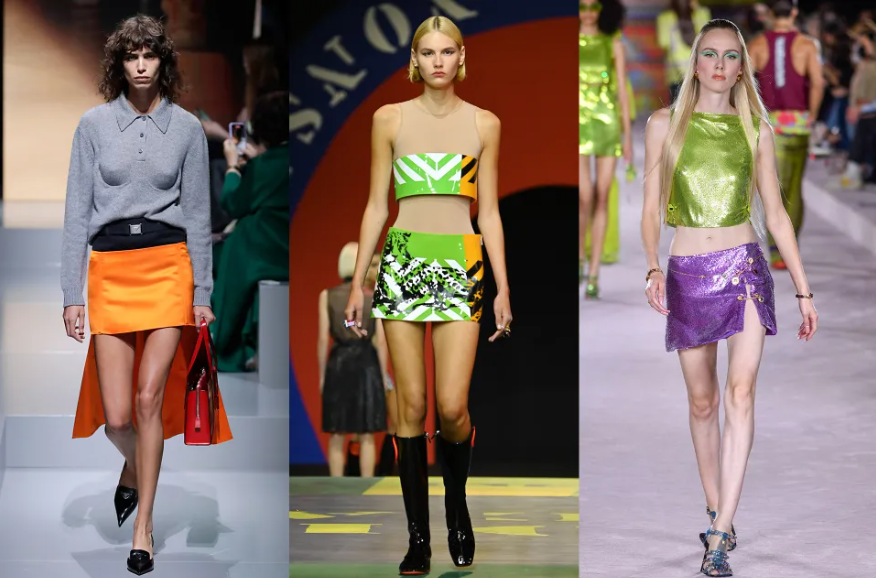 5.ULTRA-MINI MINIS

Pleated skirts may be midi for this season, but all others are raising the hemlines to minuscule lengths. These are minis that the supermodels of the '90s would've been proud to wear, with well over half of the thigh exposed beneath the brief slip of fabric. Miu Miu created the viral hit of the season but opt for super-statement shades, prints or fabrics to ensure that while your skirt may be small it still packs a mighty punch.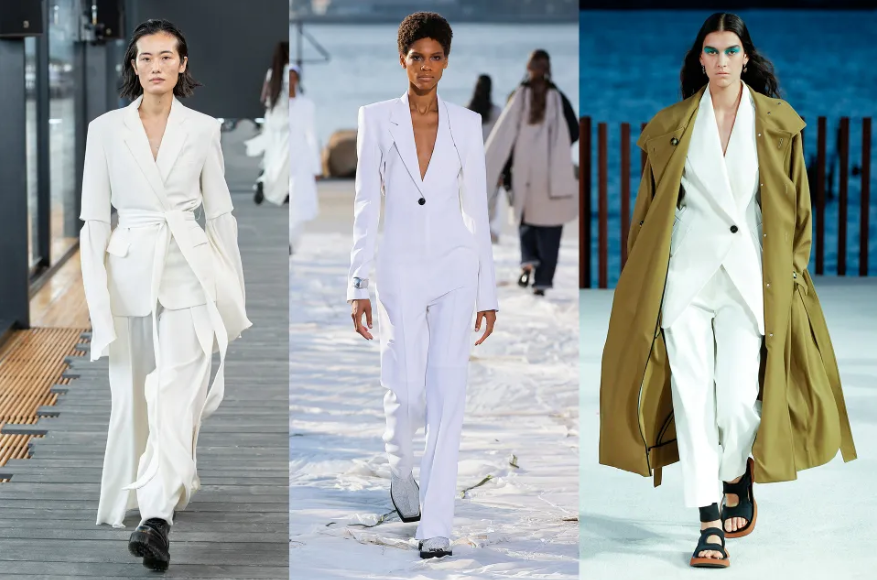 6.WHITE SUITING

Suiting may have been off the sartorial radar for quite some months as swathes of the country took to working from home in loungewear, but this season sees the old staple return with a vengeance. Stark white and complete with show-stopping accents – from waist ties to contrast black hardware and bold shoulders, these are pieces that should make the prospect of returning to your commute a whole lot more bearable. A trouser suit also provides a chic option for an alternative wedding outfits if you're looking for something other than a traditional dress.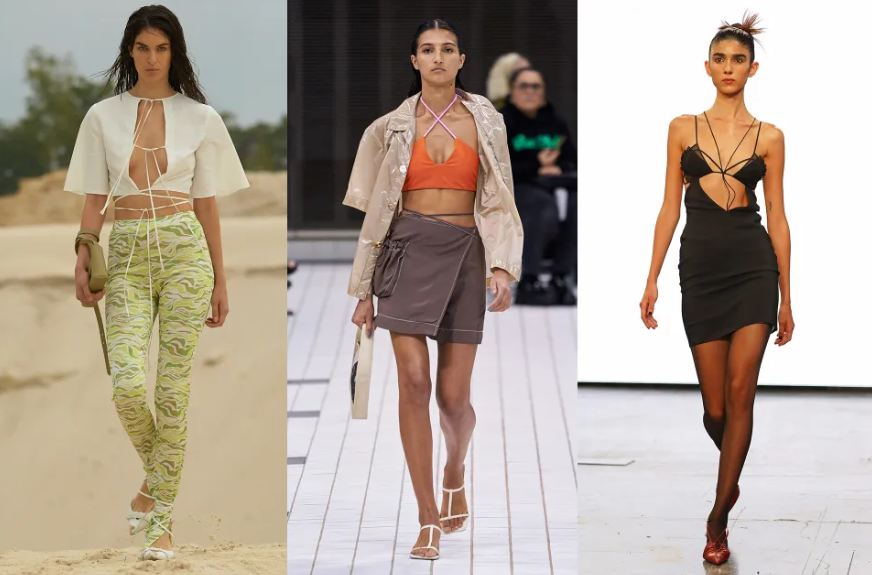 7.STRAP IT UP

Strapped accents have been gaining popularity over recent seasons, but it's set to really take hold from summer 2022 onwards. Whether it's a top with multi-straps across the shoulders and décolletage, trousers with a strapped waistband criss-crossing across the stomach – or, indeed, both – you'll have to forgo any worries of awkward tan lines this season and embrace the straps. Even that mainstay of retro accessories, the ankle strap sandal, with ties twisting up towards your knees, is back with a vengance.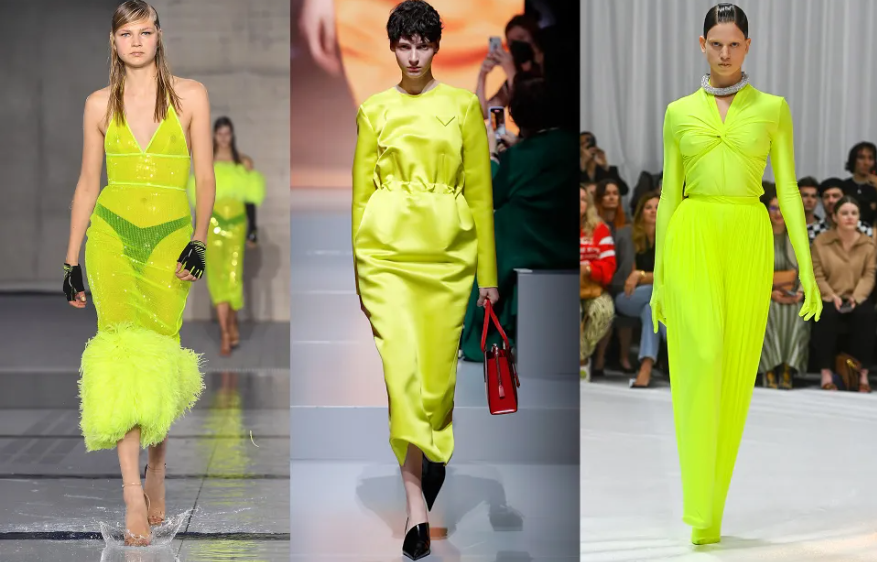 8.HIGHLIGHTER YELLOW

Lovers of the beige aesthetic, look away now. Not one for the wardrobe wallflowers among us, neon yellow looks set to be one of the hottest hues this summer. The even more intense news? It's particularly epic when worn head-to-toe. Although if you're really fearful of the look-at-me tone, it does looks awesome as an accessory accent when mixed with camel, taupe or oatmilk tones.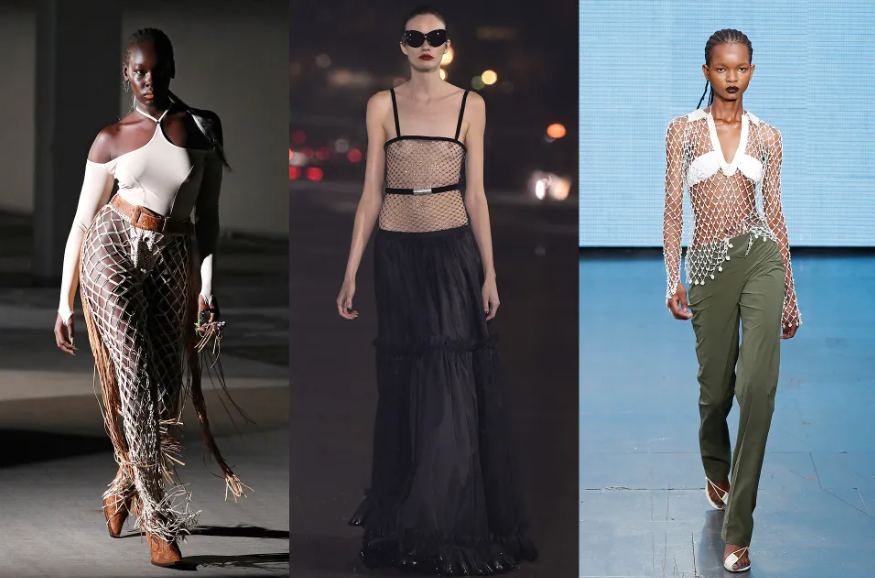 9.NETTED KNITS

Knitwear is rarely a major summer trend for obvious reasons, but after SS21's obsession with all things crochet, this season we're seeing fairweather knits get a grown-up glow-up in the form of netting. Across tops, vests, trousers, skirts and even bags, whether you're strolling along the beach or heading for date night in the city, you'll find any excuse to put on your netted knitwear – trust us on this one. Like super sheer fabrics, start by layering to your hearts content and taking baby steps to working the trend.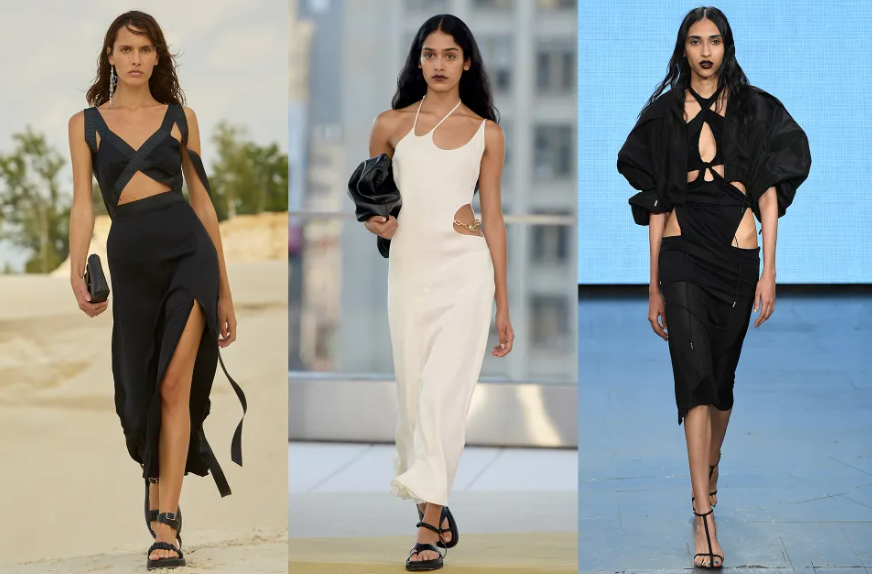 10.CUT-OUTS

We know, we know, cut-outs are not new news. They came as a shock a few seasons ago, but they're proving to be far more of a long-term look than any of us initially gave them credit for. Which is definitely a good thing when it comes to considering cost-per-wear and environmental-friendly-ness, because the more frequently you're happy to wear an item the better. With cut-outs – wherever they are on an item – seemingly going nowhere fast, you'd be wise to hop on board.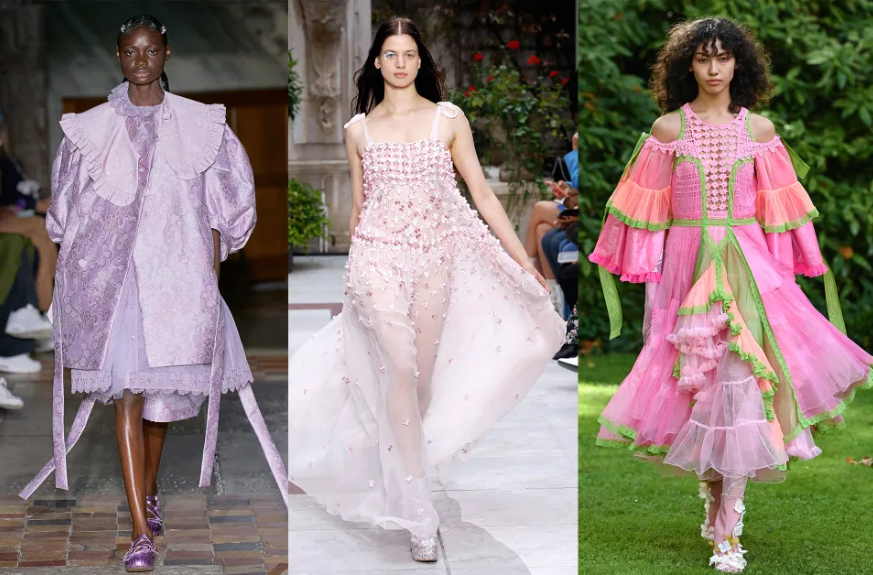 11.HYPER FEMININE

With muted hues and style androgyny gaining traction season after season, it's been a while since super traditionally-feminine pieces had their moment on the industry's radar. For summer, however, frothy fabrics and pretty pink hues – from pastel to candy, rose and fuchsia – prove an interesting, playful point of difference in the fashion landscape. Add as many ruffles, tulle underlayers or pastel shades as you feel comfortable with.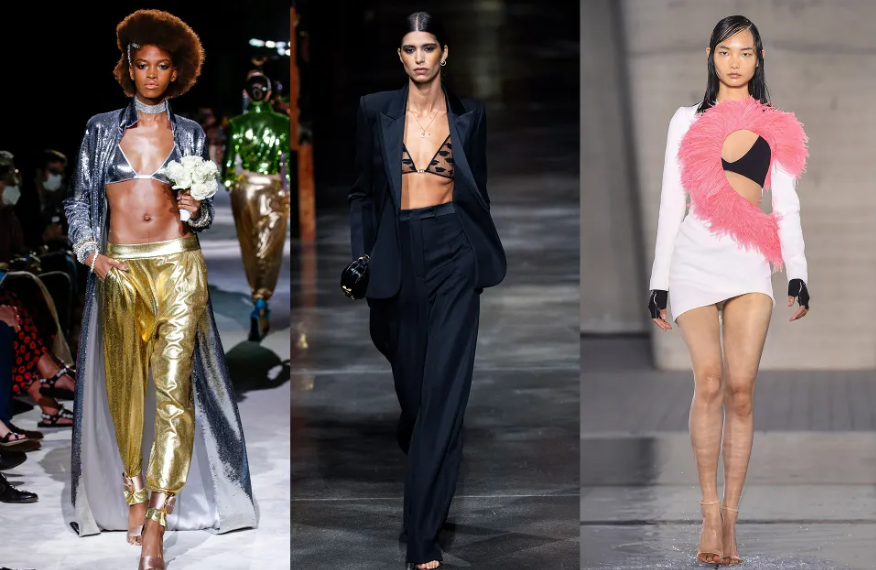 12.UNDERWEAR OUTERWEAR

Another one for the fearless dressers, summer 2022 sees underwear become a perfectly acceptable form of outerwear. Super chic when done in the right way, layer a bralette beneath an open blazer or a top/dress with a convenient cut-out (there's that trend again) for a subtle hint of sexy. (And this trend offers a super-stylish way to keep cool in the heat…)